Gavra Vukovića b.b, Podgorica
DENTAL PROSTHODONTICS (PROSTHETICS)
Prosthodontics (prosthetics) is a dental specialty concerned with dental rehabilitation, esthetics, harmonious interdental relationship, equilibrated mastication and muscular function as well as the health maintenance.
Dental prosthodontics (prosthetics) is closely connected with oral surgery, implantology, endodontics, orthodontics and periodontics.
Prosthetics is one of the main specialties preformed at our clinic. Our expert team preforms a wide range of cutting edge treatments aimed at complete smile rehabilitation, using both fixed and removable prosthetic options.
FIXED PROSTHODONTICS : ZIRCONIA CROWNS AND BRIDGES
Zirconium was discovered in 1789. by German scientist Klaproth who named it a "miraculous material".
Due to the great strength, pressure resistance, and high modulus of elasticity, it became one of the most used materials in dentistry. It is biocompatible , and therefore used in variety of medical specialties ( cochlear implants, hip implants).
Due to its isometric structure, quality and beautiful appearance, it became known as the "diamant".
Zirconium crowns are manufactured using CAD CAM technology which offers an unprecedented precision, quality and durability.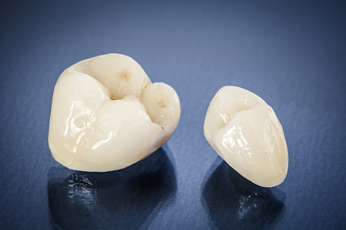 The advantages of zirconium are : potential use in allergic patients, longevity, esthetics,
Color flexibility, absence of discoloration, resilience to the external factors
FIXED PROSTHODONTICS: ALUMINA VENEERS
Aluminium veneers are minimally invasive prosthetic solution.
Prosthetic preparation of the existing teeth is minimal and can sometimes be preformed without the anaesthetic. Our specialized dental laboratory using Swedish Nobel Biocare materials can manufacture 0.25mm thin veneer. This offers a unique opportunity to alert the dimensions and appearance of the tooth which is especially indicated in the cases of diastemas, fractures or desired colour modifications.
FIXED PROSTHODONTICS: METAL FREE CERAMIC CROWNS AND BRIDGES
FIXED IMPLANT PROSTHODONTICS
All-on-four technique
All on four technology offers a possibility of obtaining a complete prosthetic rehabilitation of the jaw using only 4 implants – in one day.
All on 4 technique enables us to preform rehabilitation of the edentulous (toothless) jaw using only 4 titanium implants. Consequently, patient can get full 12 crown arch in each jaw, which are connected to the implants using micro screw mechanism. This mechanism allows us to preform modifications and alterations even after the final phase of treatment.  
Using this technique will help stabilize the bone level and preserve the physiologic jaw position. The posterior two implants are placed at the angle of 45 °, which enables a complete rehabilitation even in cases with extremely resorbed bone.
Za početak je neophodan specijalistički pregled kako bi se dobio kompletan uvid u istoriju bolesti i trenutno stanje pacijenta.
Nakon specijalističkog pregleda se pristupa neophodnim pretragama i analizama, koje pacijenti mogu obaviti u okviru naše bolnice.